ZERO Gen
Educate to the future
T&C truffle Zero waste project in collaboration with some Italian Hotel Management Schools.
According to the European Commission, food waste means "all the products discarded by the food chain, removed and disposed of, due to economical and aesthetical parameters or because close to consumption expiry, though still edible".
Food waste is an urgent and important issue, strictly connected with the sustainability subject to which the entire world must face.

Industrial agri-food model typical of our time, but, even more, of the period before ours, contributed to loose and waste food along the supply chain due to aesthetical standards to be followed about fresh food. Besides that, oversized restaurant portions and the "abundance in kitchen", generally speaking, have caused an unavoidable waste of food: eggs, vegetables, broth, meats without exception.
At the same time, a wind of rebirth and hope is permeating the world: it is the Z Generation wind, their voices are screaming at the changement.
It's all about their commitment, their endless resources, their awareness to be the heirs of a conpromised planet, in which we consume much more than what we have, turning our face away.
This moves us and make us reflect, it pushes us to trust in a brighter future and to go into the hands of people who care the planet. These people are looking for the "local aspect" inside a global world, people who prefer quality to the quantity.
These people are creative, smart, aware, attentive, committed, inclusive and cooperating. This is the generation who begins to recuperate instead of throwing away. The generation who creates a masterpiece with what the others would define garbage.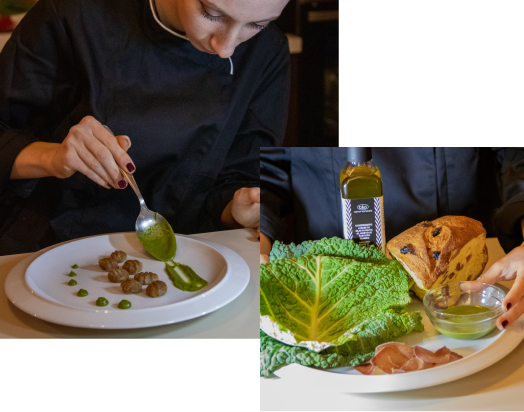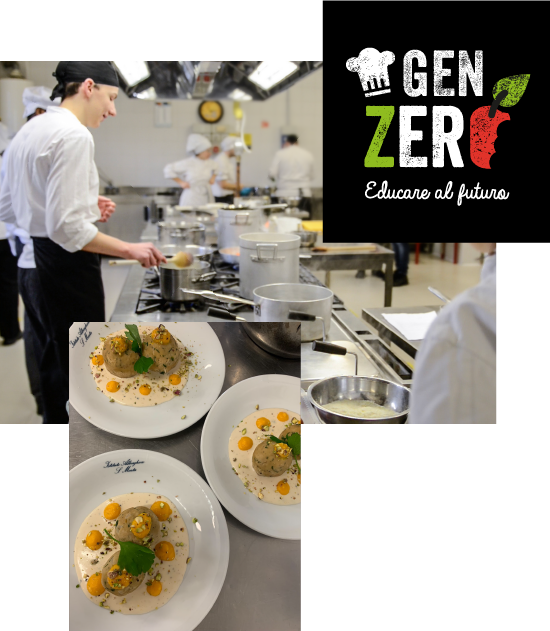 Starting from all of that, ZEROGen is born. ZEROGen is a project made by T&C Truffles with the collaboration of the students attending 9 Italian Hotel Management Schools. They were committed to create Zero Waste recipes with professionality and creativity, starting from food recovery (or parts of it) that,otherwise, would have been thrown away.
All recipes have been enhanced by unmistakable scent of truffle. Truffle is a luxury product that can also be democratic, you can mix it with infinitive raw materials. Truffle makes even more special the recipe based on recovered food prepared by young promises of catering.
Once a month, for the next months to come, we will present the recipes made by the 9 Italian Hotel Management Schools who have joined the project. Together with you, we will live the possibility of learning the most important and urgent lesson of the moment: to educate people towards the future, a respectful future, a future who creates more than it consumes.
ISTITUTO SANTA MARTA PESARO | FOOD GENIUS ACADEMY MILANO | IPSSAR IST ALB Piobbico (sede di IIS DI CAGLI ) | IPSSEO SAVIOLI RICCIONE | UNIVERSITÀ DI CAMERINO CORSO DI LAUREA SCIENZE GASTRONOMICHE CAMERINO | ISTITUTO ALBERGHIERO SPALLANZANI CASTELFRANCO EMILIA | ECOLE HOTELIERE CHATILLON | IPSEO ALBERGHIERO ALDO MORO SANTA CESAREA TERME | ISTITUTO ALBERGHIERO NARDUCCI TOR CARBONE ROMA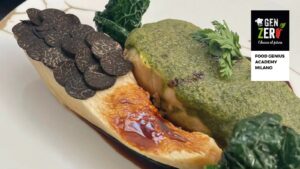 Chicken in two servings - Roasted breast with truffle and…