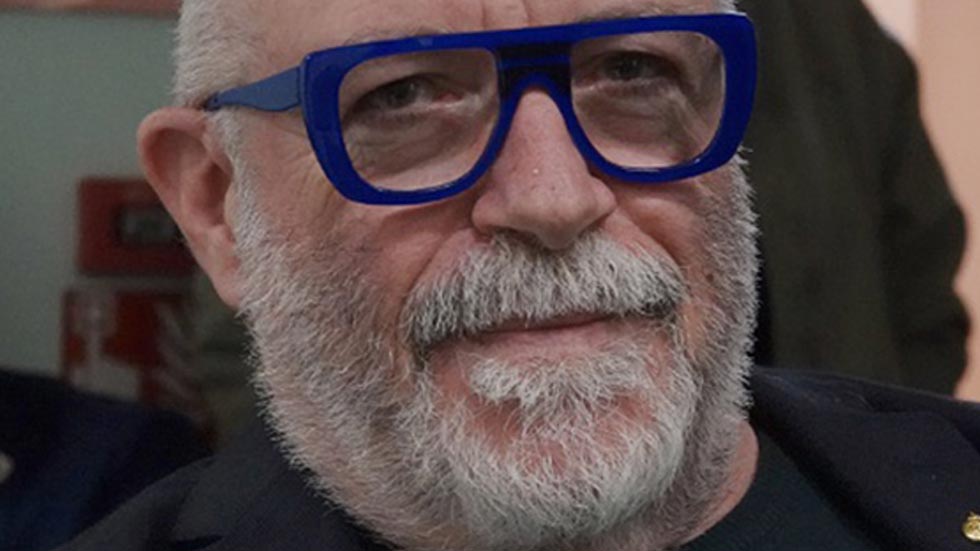 Journalist gastronome, in love with Italy and its territory, judge in contest about evo oil or young chef or pizza. Constantly on batterfield to protect positively and with determination and optimism values as quality and professionalism. We've got an interview to Mr Luigi Franchi, Head Director of Sala &Cucina magazine. He told us his idea about restaurant world and the importance of training.
You are a journalist, gastronome, you are in love of Italy and its territory, being judge in young chef olive oil contest, till the pizza contest one .You constantly are on the batterfield to protect positively and with determination and optimism values as quality and professionalism. Lately in one of your editorial on sala&cucina magazine you recommend to use only "positive words" about food activity and restaurant instead of "harmful words" like sacrifice, fatigue, humility, first of all to avoid scaring young generation , who is our future .Can you explain better to us this innovative concept?
I called these words harmful because being a restaurateur, a chef, a maître has a target: the wellbeing of people. When I say people I mean guests and also the staff.Today we can see a kind of paradox : people don't go to the restaurant just to eat. Today the Restaurant has become a place of delight, where you can meet your friends, you can sit together with people you love , where you can have some pleasant and smart chat , besides the fact of eating well.To reach all this you the staff must be fine earning the adequate salary for their commitment, they must be one integral part of the project .When I listen to people talking about this job as a nineteenth-century craft I realize that this does not help the sector .I also must say that when people say "you work near to a famous chef , what do you want more than that!"it does not help as well.The project of a restaurant is really to involve people , giving them their dignity !
The hall of a restaurant with its gestures and the kitchen with its rules, are always the focus of your professional life. We could say that they are the two sides of the same coin, could we? Is the Chef the movie director and the conductor of a perfectly coordinated orchestra? Or is it up to the starred or not starred chef the "making" of the restaurant?
Making a restaurant it's a complex job, perhaps the most complicated one among what we know. To make a restaurant it is absolutely necessary that people, who have a role inside it, are totally involved.
When the waiter gets the order or takes a dish to the guest, he must perfectly know everything about the dish, because that's what the majority of guests want to know.
At the same time the chef must know who are the guests that evening, what do they wish, why they have chosen exactly that restaurant. Even the dishwasher must know how is going on the evening to give the right time to his job .As you can see it is not only the Chef who make the restaurant. That's the reason why there is a big crisis about the restaurant guides, today it's not sufficient judging only the kitchen.
In your November issue of sala&cucina magazine editorial , you point out the positivity of this historical time of recovery but , at the same time, you recommend to the restaurateurs to come back to the territory, to the producers, to the good companies, to the peculiarities of our country, talking about food and quality. This coming back will be the "storytelling"that managers, staff and location will tell to the guests .Guest will feel at home in this way .Is that what you personally call the smart catering of the future? That means the end or at least the agony of the famous sentence in some menu "risotto (minimum for two people)"?
On one hand we hope so.If you write in a menu "minimum for two " today you can risk to loose a big part of customers. World has changed and is changing at every step. Today you must be flexible, in every aspect of your life. Pandemic has shown that any certainty is ephemeral. From one day to the following one all our lives has changed. In so few hours! That's the reason why it is necessary, expecially in horeca channel who paid heavy consequences, be attentive to the essential, to the seasonality, to all of these products you can daily work , without excessive inventories, paying a particular attention avoiding waste that damage environment. One must always tell the truth. People travel a lot, make experiences ,know much more than in the past.Trying to sell a bottle of wine more expensive it does not work anymore .
You very often point out the importance of human factor of the hall staff. It needs a deep changement, a transition from silent handler to expert actor who transfers the message to the guests. Can you better explain to us this transition and why you wish it? Some food companies usually make training to horeca channel.
T&C for example, make regularly training, explication and information to the food service world and restaurant to make them know the truffle products message. Do you like this kind of relationship and what can you suggest to improve this activity between company and the following production chain?
One of the founding values of sala&cucina magazine is exactly to make relationships between restaurateurs, food services and production companies. When we write down the storytelling of a company and its products we highlight the reason why that particular product is useful to the chef or to the maître .
You don't need advertorials that enhance the corporate magnificence, in the same way wherever they are published.
At the same time we care about hotels schools in each issue. We visit them to understand better the school itself. We are the only magazine doing that . Hotel schools are the future of restaurants , but not only. Starting from these school experiences others working opportunities can arise, also in food services companies. T&C is the proof ,when you speak about training , because training need people who speak the same language and know perfectly the matter.
What can I suggest? Answers could be a lot, but to be syntethic in an interview, I would rather choose one: opening to meeting (between each other). Take the distributors to visit the companies of the food service to know directly the product. Discovering its plus will give them the knowledge about product, and then they will tell this knowledge better to the restaurateurs.
In September 2021 you made this travel inside Le Marche region with Pizza challenge together with Cristina Lunardini the chef of Arte Bianca .You two you pointed out the 12 best pizzeria in this region.Le Marche region are a land of excellence ?You very often are involved as judge in food world and restaurants , which are the elements that decree the success in catering ?Quality, the chef, service, wine cellar, modernity, simplicity , territoriality, competence , study, atmosphere?
Pizza Challenge is a TV format that every year discovers an Italian region awarding the best pizzeria .This year it was the Marche's turn and I discovered a very unexpected high quality about location and pizza itself.
I already knew Le Marche region for its restaurants and I've always loved Le Marche for their landscapes , wines, food production :yes, I must say, le Marche are really a territory of excellence.
Which are the rules?They are a lot and also different depending on the situation.I prefer the global vision of the place in each aspect , even the intangible ones, like the respect of the staff.
Le Marche region are the area in which is based T&C truffle company. An historic company which sells and transforms truffle for restaurants and retail.
Truffle is a precious gift of an uncontaminated land. Misterious and silent protagonist, truffle fascinates our smell before tasting it . Gualtiero Marchesi was used to say that truffle can be present in each menu starting from appetizers to the dessert. Do you agree about that?What do you think about high quality level T&C truffle based products that let the restaurant have truffle all the year with a clear food cost?
Coming directly and in person to your company I have learnt a lot about truffle.Truffle has a lot of positive aspects but , unfortunately, it also has negative aspects during the time in which it is transformed .
I knew negative aspects before knowing you :e.g.truffle oil that barely has truffle scent , creams with ridiculous percentages of raw material.
The visit I made in your company, looking how you produce all the products on your catalogue , in addition to your care for fresh truffle , made me known how it must be difficult for a company like T&C , who has quality as a rule , facing the market who, unfortunately yet ignore this subject .
But I must say, you have to go on this way. This is the right one and I wish that the masterchef Marchesi sentence will always be with you .
Watch the video