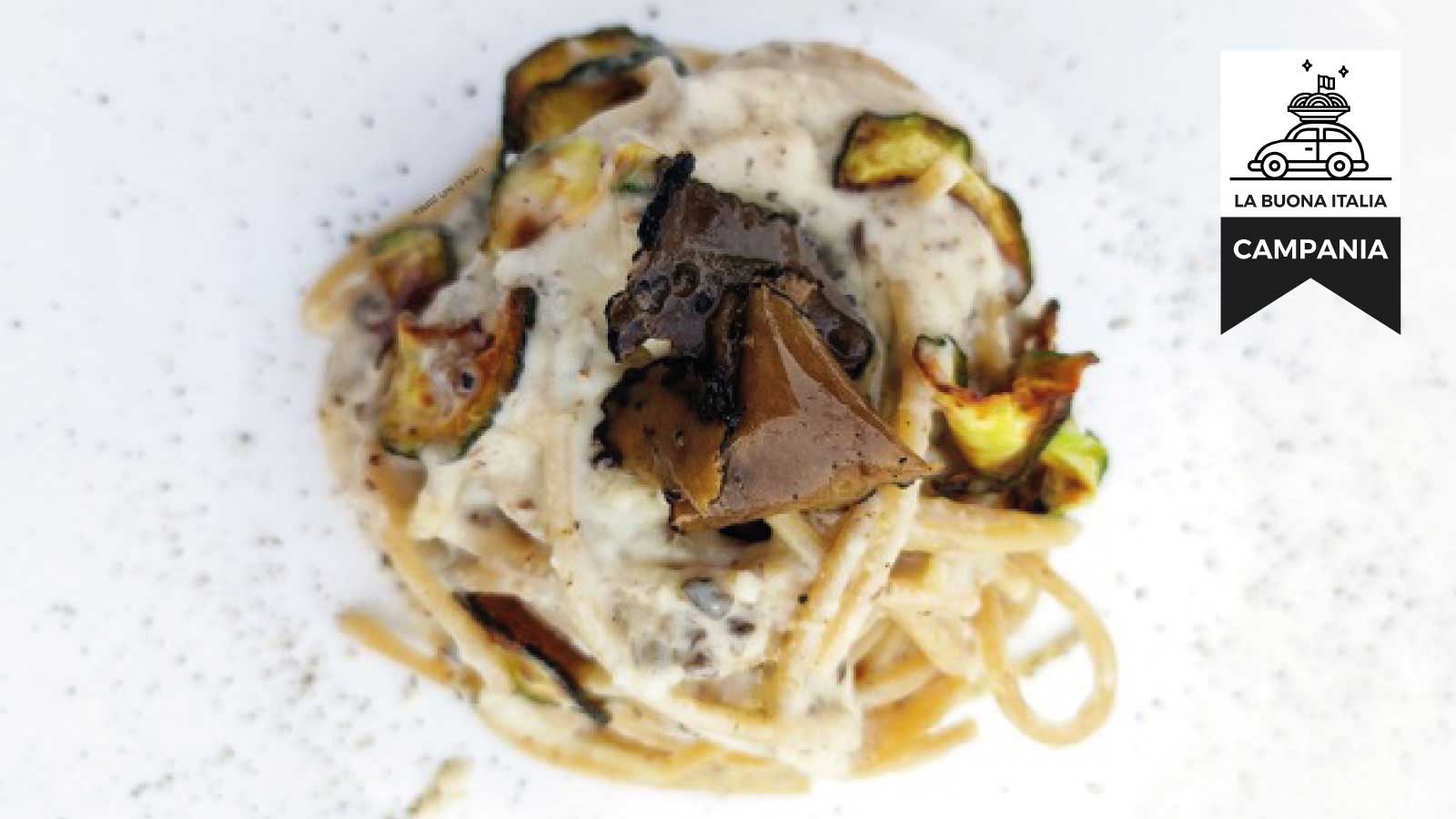 Campania – Nerano Pasta with T&C Truffle
Campania, land of sun, sea, good wine and… amazing food!
The king of the woods, in this third leg of our truffle trip, goes to Campania Region and revisits a traditional dish as tasty as it is easy to replicate: Nerano pasta.
Leading us on this journey of taste is Lucia @luciaeisuoipasticci, a cooking enthusiast and lover of her region, who will be adding a touch of truffle to her Nerano, this time from our Truffle Sauce which is present both in the pasta dough and in the sauce.
Let's start by preparing pasta: in a bowl sift the flour, add salt, whole eggs and a teaspoon of Truffle Sauce. Knead quickly forming a smooth and homogeneous dough, from it we get 6 pieces that we crush with our hands after which with the pasta machine we first prepare the sheets, they should have a thickness of 1mm, then we will form the noodles dusted with a little 'of flour and let dry.
With a sharp knife cut the zucchini into thin rounds, in a pan heat the seed oil and fry the zucchini, when they are golden drained and let dry on paper towels and salt lightly.
In a bowl, grate the caciocavallo and pecorino cheeses, grind the black pepper and add a teaspoon of Truffle Sauce, creating a creamy sauce with the addition of a ladleful of pasta cooking water (it should not be too liquid, add a little water at a time). In a large pot we bring to a boil plenty of salted water, we drop the noodles that have a very short cooking and drain them in a pan where we have previously poured a drizzle of oil, saute a few seconds after which off the heat we add the cream cheese and truffles, mantechiamo with a drizzle of cooking water, everything will become creamy thanks to the starch released from the pasta. Serve and finish with the addition of truffle shavings and fried zucchini We recommend serving the Nerano Tartufata with a Fiano, a typical Wine of Peastum.
INGREDIENTS
For pasta
300g of remilled semolina flour
3 medium eggs
1 generous teaspoon of Truffle Sauce
For sauce
1 medium zucchini
100g of grated caciocavallo cheese
50g of grated pecorino cheese
Sauce with truffles to taste
Black pepper to taste
Seed oil for frying