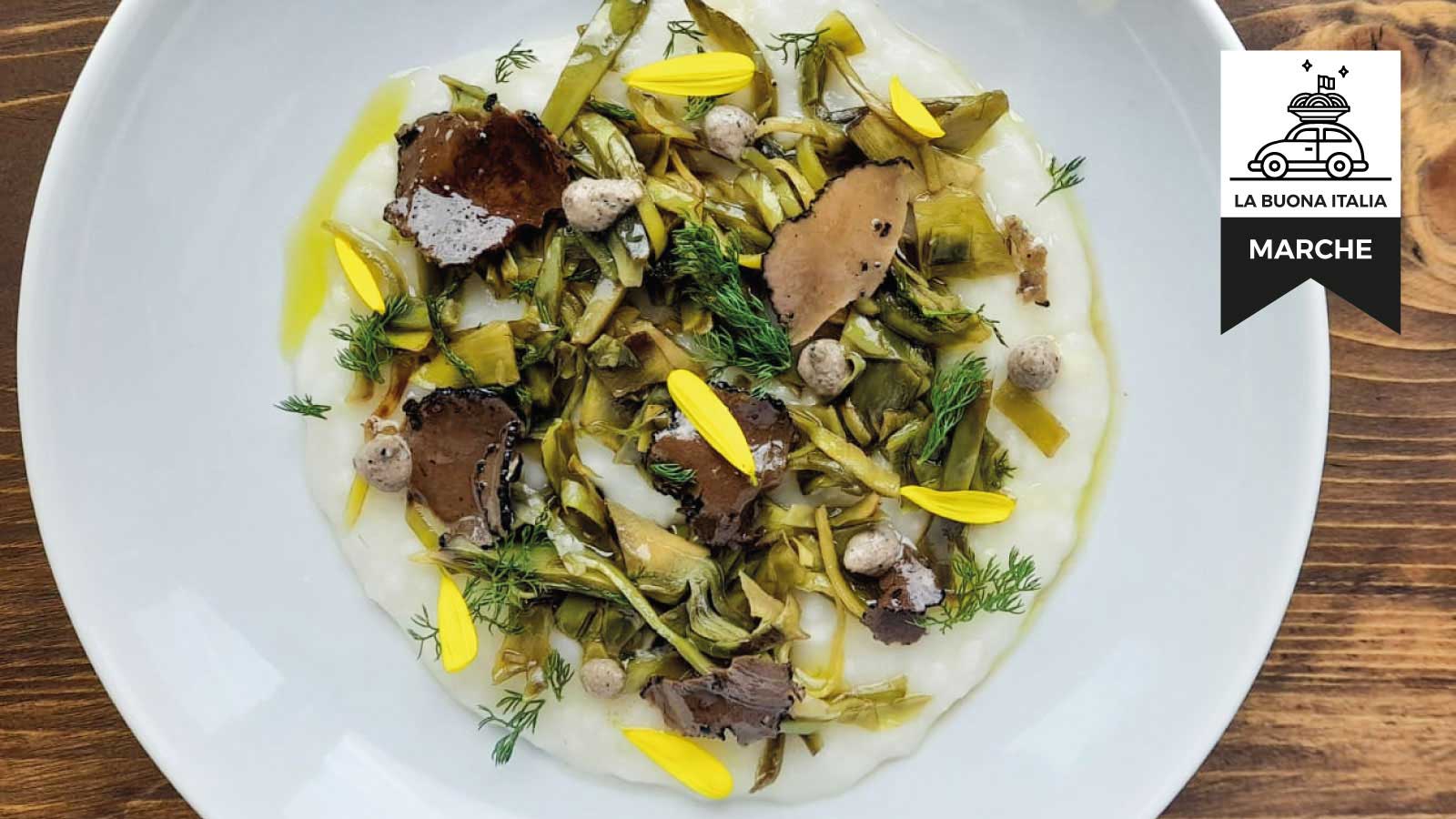 Marche – Gluten-free Frescarelli pasta with T&C Truffle and Montelupone Artichokes
Today we play at home! We are in our region, Marche.
Here the truffle is a traditional product and here it goes to enrich a typical dish of the tradition of the city of Macerata: Frascarelli.
Dense, creamy and delicate, Frascarelli have their roots in the southern Marche countryside and Marco @cromachef1979, chef of the restaurant Hosteria La Marca, passionate about food and artist of colorful and original dishes, chooses to bring together the north and south of the region in a timeless dish, easy to prepare and gluten-free. To enrich a dish that is already appetizing and special in itself, our White truffle T&C extra virgin olive oil dressing, T&C summer truffle cream and T&C summer sliced truffle in oil.
Clean the artichokes, taking care to remove the more woody outer leaves, cut them in half and remove any internal fluff and then cut them finely into julienne strips.
In a saucepan heat a couple of tablespoons of olive oil with the garlic clove and a few sprigs of wild fennel, then add the artichoke julienne.
Let the artichokes heat for a few minutes until softened, adjust the salt and pepper, bring them to cooking sautéing them over high heat until browned, then remove the garlic clove. Add salt to the water and bring it to the boil. Add the rice and cook it until 5 minutes from the end of cooking. Sprinkle the rice flour over the rice in the water and stir vigorously with a whisk to prevent lumps from forming. Finish cooking the rice with the flour and spread out on a plate. Leave to rest for a minute then add the artichokes, a drizzle of T&C white truffle oil, a few sliced of T&C summer truffle and a few drops of T&C summer truffle cream. Serve the dish warm to best release the truffle's aroma.
INGREDIENTS FOR 2 PEOPLE
ml. 600 water
g. 60 of Vialone Nano Rice
g. 60 rice flour
2 Montelupone artichokes
n. 1 clove of garlic without shirt
Wild fennel to taste
Olive oil to taste
Salt and pepper to taste
White wine to taste
White truffle T&C extra virgin olive oil dressing
T&C summer truffle cream
T&C summer sliced truffle in oil