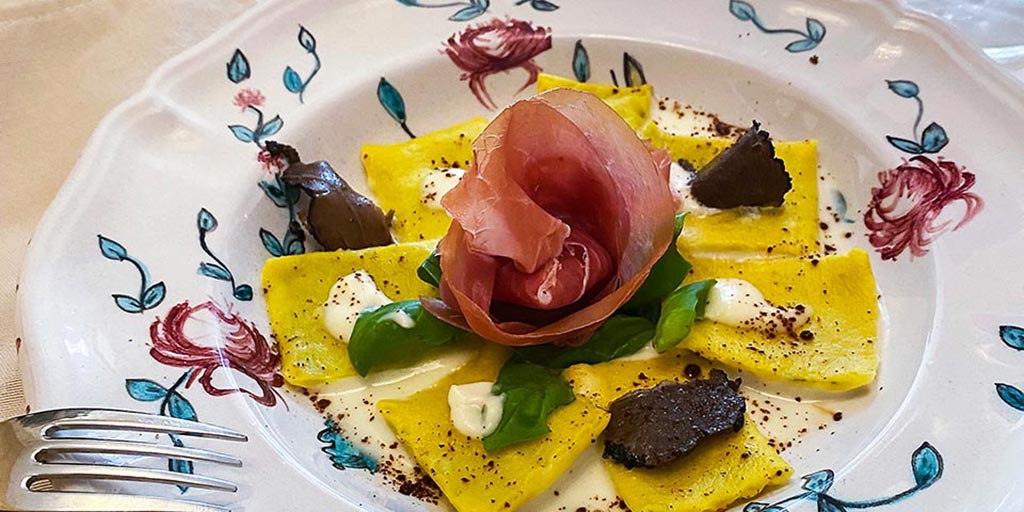 Mascarpone cheese sauce and Carpegna prosciutto ravioli egg pasta with truffle
Prepare the ravioli pasta dough as usual with a circle of wheat and egg in the middle, knead and massage very quickly and make a soft and homogenous ball.Leave it 20 minutes.
Prepare the puff pastry ravioli, cut it into little stripes and put the stuff with lightly salted potatoes and T&C summer truffles fine cream.
Boil some water. In the meantime prepare the sauce. Heat the mascarpone cheese over low heat with Tartumix seasoning, to make truffle aroma stronger.
Put ravioli on the plate and in a circular manner add basil leaves, some mascarpone drop and Tartumix, at the end add a Prosciutto di Carpegna slice in the shape of a rose over the ravioli and decorate with some T&C summer truffle.
INGREDIENTS
100g ravioli egg pasta
(If you make ravioli by yourself prepare the doug pasta with 1 egg 100g wheat flour "0" and 60g boiled potatoes.Stuffed ravioli with /78 g of T&C summer truffle fine cream)
40g mascarpone cheese
q.b T&C Tartumix as required
T&C 7/8 g T&C summer truffle slices
20g Carpegna Prosciutto DOP
Salt as required
2/3 Basil leaves