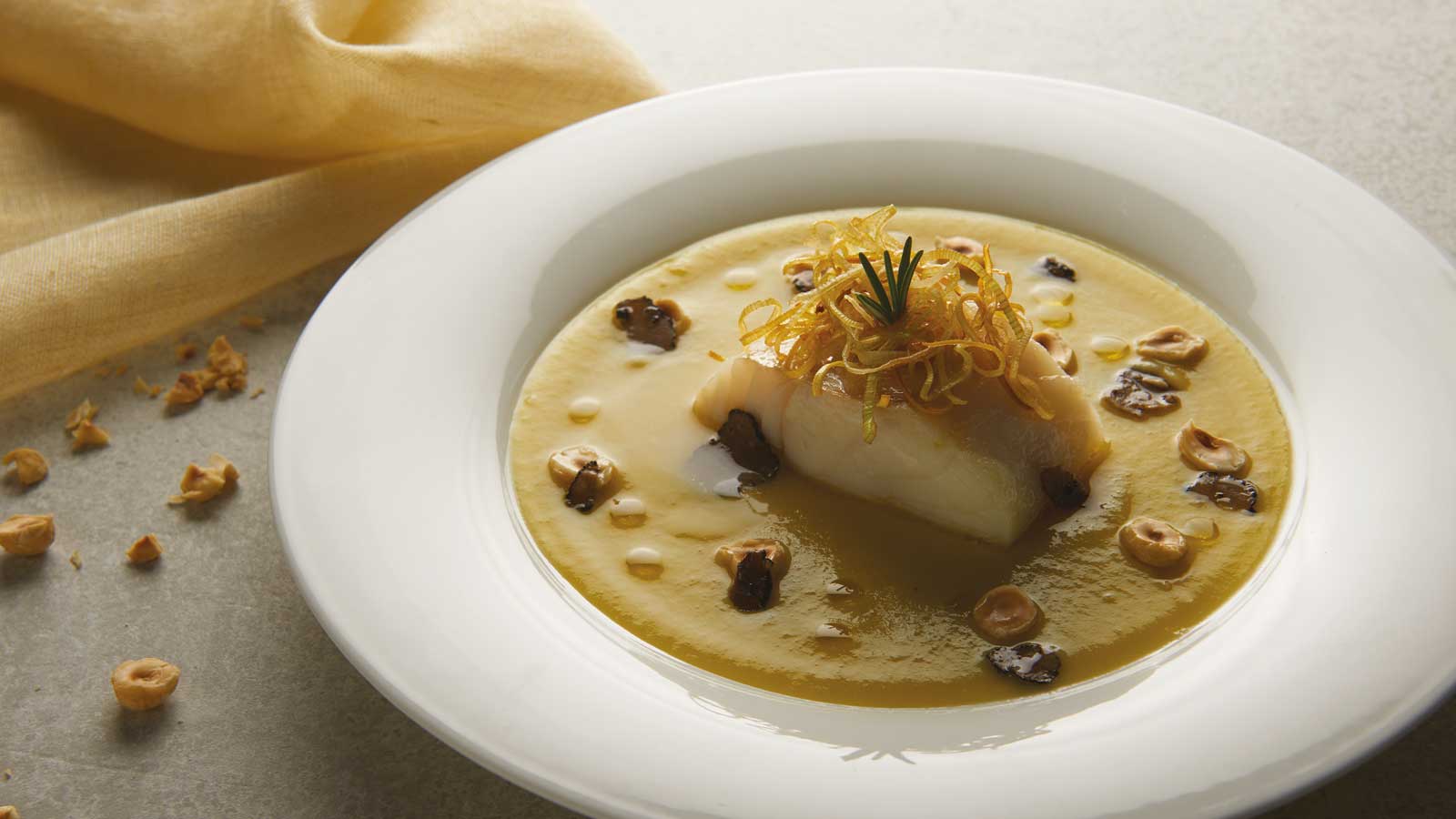 Cod Fillet In Cooking Oil Over Truffle And Potatoes Cream
I felt in love with Marseilles, without even being there once.
The power of a book brings out the passion and takes us to unknown worlds: it is the easiest way to travel. The Marseilles described in Jean Claude Izzo's pages is not an easy city, it's not for tourists, to simplify it's not for everybody. It's for those who love the fragrances, the people, the melting pot, the diversity. Marseilles overlooks the Mediterranean sea, which brings all its inhabitants together, 7 out of 10 have not French origins. The predominant colours are undoubtedly the blue and the dirty white of the boats standing at the harbour, that carry the fragrances of sea salt and fish. The harbour is the perfect place to taste Marseilles' typical dishes, which include the bouillabaisse, a sort of fish soup, the aioli, a typical Provence's sauce which is like the mayonnaise with garlic as the protagonist. It is the city of strong tastes, flavours like curry, coriander and basil.
Marseilles should not be looked from a visitor's point of view, it doesn't need giuded tours.
We should let the instinct or the protagonist of a book drive us, like in my case.
The novel I am talking about is Chourmo – the heart of Marseilles, written by Jean-Claude Izzo, which allows us to taste it with a full spoon, as if for a soup or a sauce.
I take the opportunity to suggest, together with the book, a perfect recipe too: the cod fillet in cooking oil with truffle sauce and potatoes, that recalls the flavours of Marseilles and remember that, as Izzo would say, "in front of the sea happiness is a simple idea", but it would be in front of a good dish as well.
Lorenza
Make fine slices of leeks. Warm 80 ml extra virgin olive oil with 2/3 of the leeks in a cooking pan. Cook them with some water for 20 minutes, add fine slices of potatoes. Mix it and make the cream with an immersion blender. Add salt and pepper. Pour 1,5 lt of extra virgin olive oil in a high cooking pan, add garlic, sage, pepper corn and rosemary. Reach 70° C of temperature. Turn off the stove and put the cod inside the hot oil. Leave the cod immersed in hot oil for 20 minutes.
Put leeks cream lying on the plate, add the fillet (after having absorbed the excess of oil) and hazelnuts.
Decorate the plate with the left leek, fried, and T&C Summer truffle slices.
INGREDIENTS FOR 4 PEOPLE
4 cod fillet 150 g each
3 leeks
80 ml extra virgin olive oil + 1,5 lt to make the cooking oil
300 g potatoes
3 sage leaves
1 rosemary branch
1 clove of garlic
100 g toasted hazelnuts
black pepper corn
salt as required
white pepper as required
28 g T&C Summer truffle slices