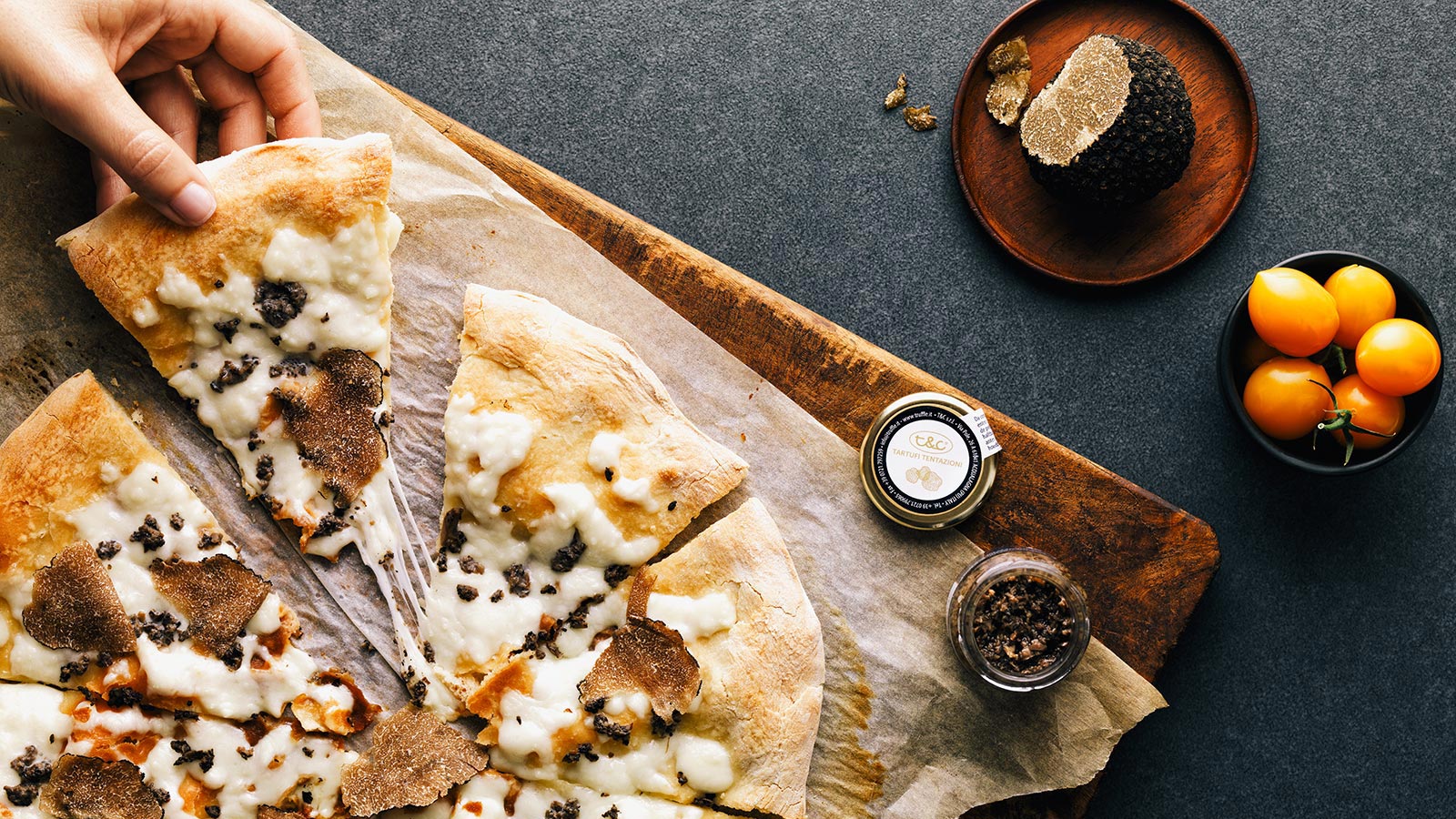 Time is short but the wish for welcoming the guests at the best is too much!
It is possible to prepare in a short time a perfect pizza, as well as a particular dish.
Last Sunday evening some good friends of mine came for an appetizer in the garden and the pizza is undoubtedly the perfect dish to be shared. It was good to reunite with everyone after the summer break, delight them with a special smoking truffle pizza.
It is a recipe that makes everyone happy because it is simple and delicious!
The T&C ready-to-use sauces has made my dinner another time much easier.


Lorenza
Place the flour on a board ,make a hole in the center and add the brewer's yeast, which is already melted in warm water. Using the tips of your finger, mix the flour, the water, 1 little spoon of salt and make a smooth and silky ball of dough. Put some olive oil all around the ball. Make 2 little cuts on the top of the ball and leave it 2/3 hours to let it double in size. After that, work the dough with your hand and knead the dough for 5 minutes. You will make a sticky and smooth dough, into your desired shape, usually rectangular if at home (just because you can cut better the slices). Roll it out on a well-floured surface until it's about 1/2" thick. Put the pizza in a baking pan 35x45cm, already greased.
Cover the pan with a cotton sheet and leave it to leaven one hour. Put the mozzarella cheese, brie cheese and the T&C Tartufata on top of the pizza dough.You can add a lot of different T&C truffle based sauces to change the taste. Bake it in hot oven at 220° for 20/25 minutes. Serve very hot. You can add a lot of different T&C ready to use sauces to change the taste.
INGREDIENTS
500 g flour 0
25 g brewer's yeast
2 dl of water
2 spoons of salt
2 spoons of extra virgin olive oil
Decoration/top:
300 g mozzarella cheese
120 g brie cheese
180 g T&C Tartufata
or other T&C ready to use sauces