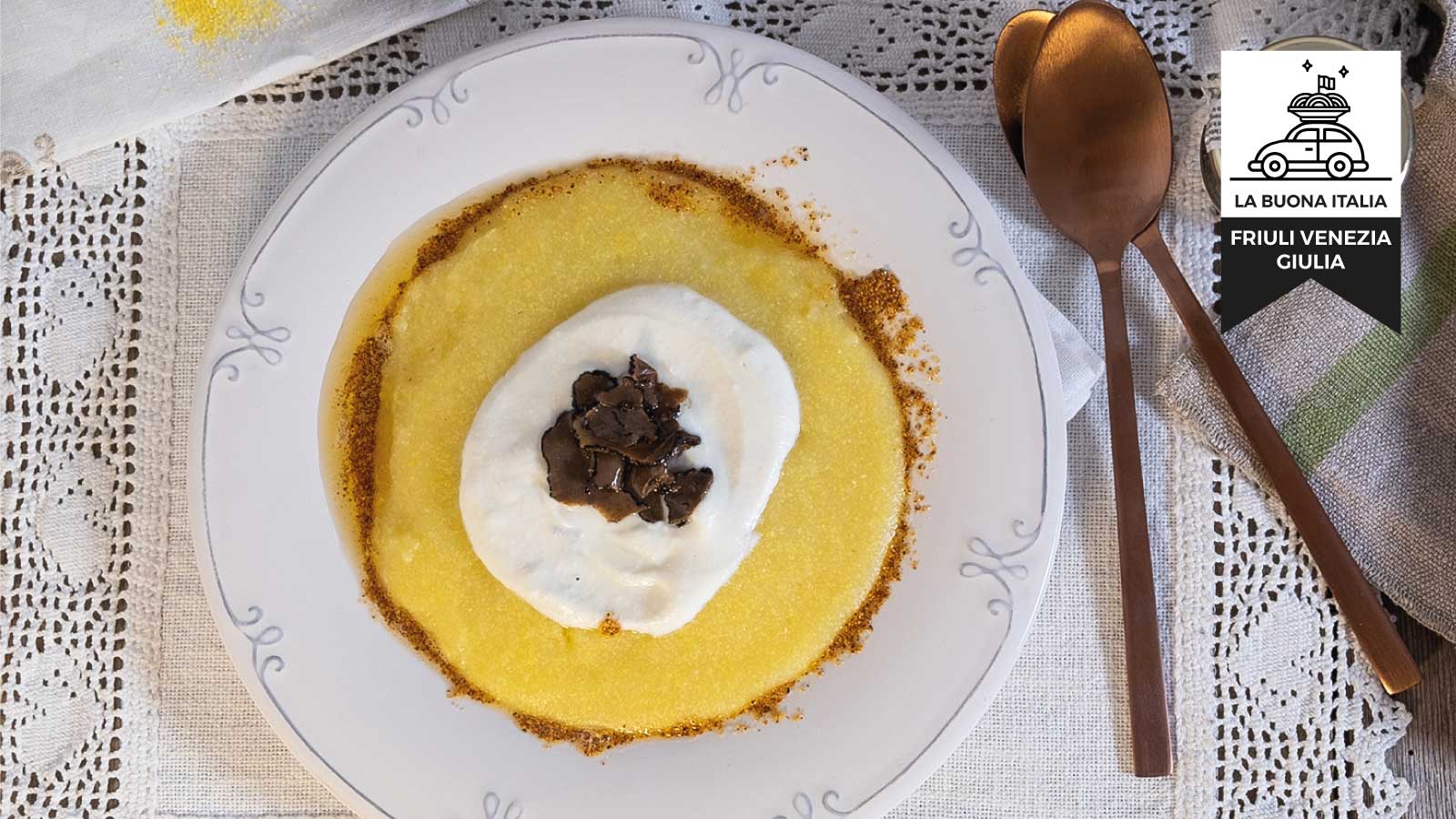 Friuli Venezia Giulia – Toc' in braids with summer sliced truffle oil T&C
Welcome to a new stage of our Truffle Trip!
Today we are in the company of Annalisa (@mancailsale) who has chosen to represent her beloved Friuli Venezia Giulia region with a perfect recipe for the cold period that awaits us!
This is Il Toc 'in braide, a poor dish of the Friulian tradition that we can translate as "the gravy of the farm". Annalisa told us that today it is served as an appetizer, but originally it was a single dish as it was quite substantial. It is a dish based on polenta, cheese and "sludge": the latter is nothing more than polenta flour cooked in melted butter. In this version the recipe is enriched with our T&C summer truffle flakes.
Read the recipe and have fun replicating it!
We see you at the next stage.
Bring the water to a boil, add salt and sprinkle in the corn flour. Mix with a whisk to prevent lumps and cook over low heat for about 40 '. You will have to get a soft polenta.
In a saucepan, melt the cheeses, stirring until they are reduced to cream.
In another pan, melt the butter, pour the corn flour and cook for about 15 'until the mixture has taken on a hazelnut color.
Compose the dish: put the polenta as a base, then pour over the cheese and sprinkle with the "sludge".
Enrich the dish with some T&C Tartufi summer truffle flakes. Eat the Toc in braide immediately.
INGREDIENTS FOR 4 PEOPLE
Corn flour 100 g + 25 g for the "sludge"
1 liter of water
1 tsp coarse salt
Mixed cheeses (ricotta, goat cheese and gorgonzola) 300 g
Butter 50 g
Summer sliced truffle oil T&C q.s.