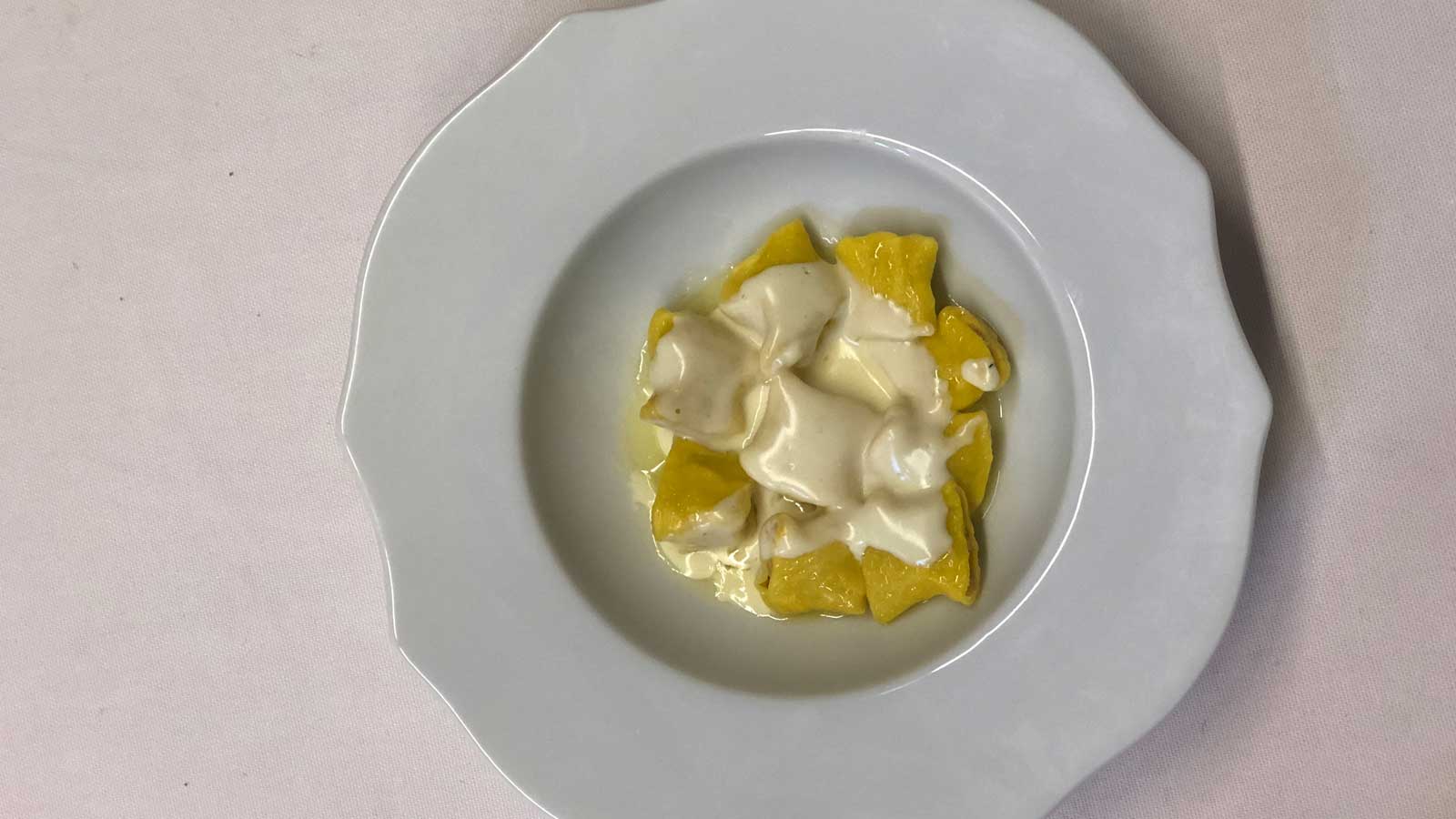 Mezze maniche (a kind of pasta) stuffed with 36 months Parmigiano Reggiano and T&C truffle from Acqualagna
In summer I dream about mountain and in winter I want the sea. My life is full of contradiction and incompatibility.
But, sometimes it's better to follow our dreams even if they are contradictory. So, during last summer, I've had an holyday on Dolomites mountains, and remembering when I was a child, I've done long walks that became long running near the final destination. In summer mountain
– 500 g flour 00
– 5 eggs
– 100 g breadcrumbs
– 350 g 36 months Parmigiano Reggiano
– 100 g mortadella
– 1 sausage
– 1 egg for the stuff
– 100 ml fresh cream
– vegetable broth
– T&C fresh truffle
is a paradise corner that, no doubt, everybody should go and visit.
It means diving in a green rocky environment, scenic trails, crystal clear lakes, overhang in the void that makes you breathless (the perfect mix between amazement and fatigue!).
After this long effort, you have to stay and have something to eat in a chalet. To delight your taste buds and recharge yourself  I propose mezze maniche stuffed with 36 months Parmigiano Reggiano cream with T&C Truffle from Acqualagna.
Lorenza
Mix flour with egg in one boule and mix it well. In the meantime grate the 36 month old Parmigiano Reggiano. Spread the dough on a pastry board with flour. Cut the mortadella in slices. Boil breadcrumbs in broth just a little, add some truffle slices, chopped sausage, 300 g of Parmigiano Reggiano and 1 egg. Mix it to have a dough. Make the puff pastry thin and elastic. Lay it down on a chopping board, put little slices of the dough on the border of the dough. Close twice the dough and close the border. Then cut rectangular slices to obtain the form of "mezze maniche". Cook the pasta on broth for some minutes. For making the sauce cook the fresh cream with 2 spoons of Parmigiano Reggiano. Then put the pasta in a cooking pan together with sauce and let it by itself. Serve with slices of T&C truffle.
INGREDIENTS FOR 4 PEOPLE
500 g flour 00
5 eggs
100 g breadcrumbs
350 g 36 months Parmigiano Reggiano
100 g mortadella
1 sausage
1 egg for the stuff
100 ml fresh cream
vegetable broth
T&C fresh truffle