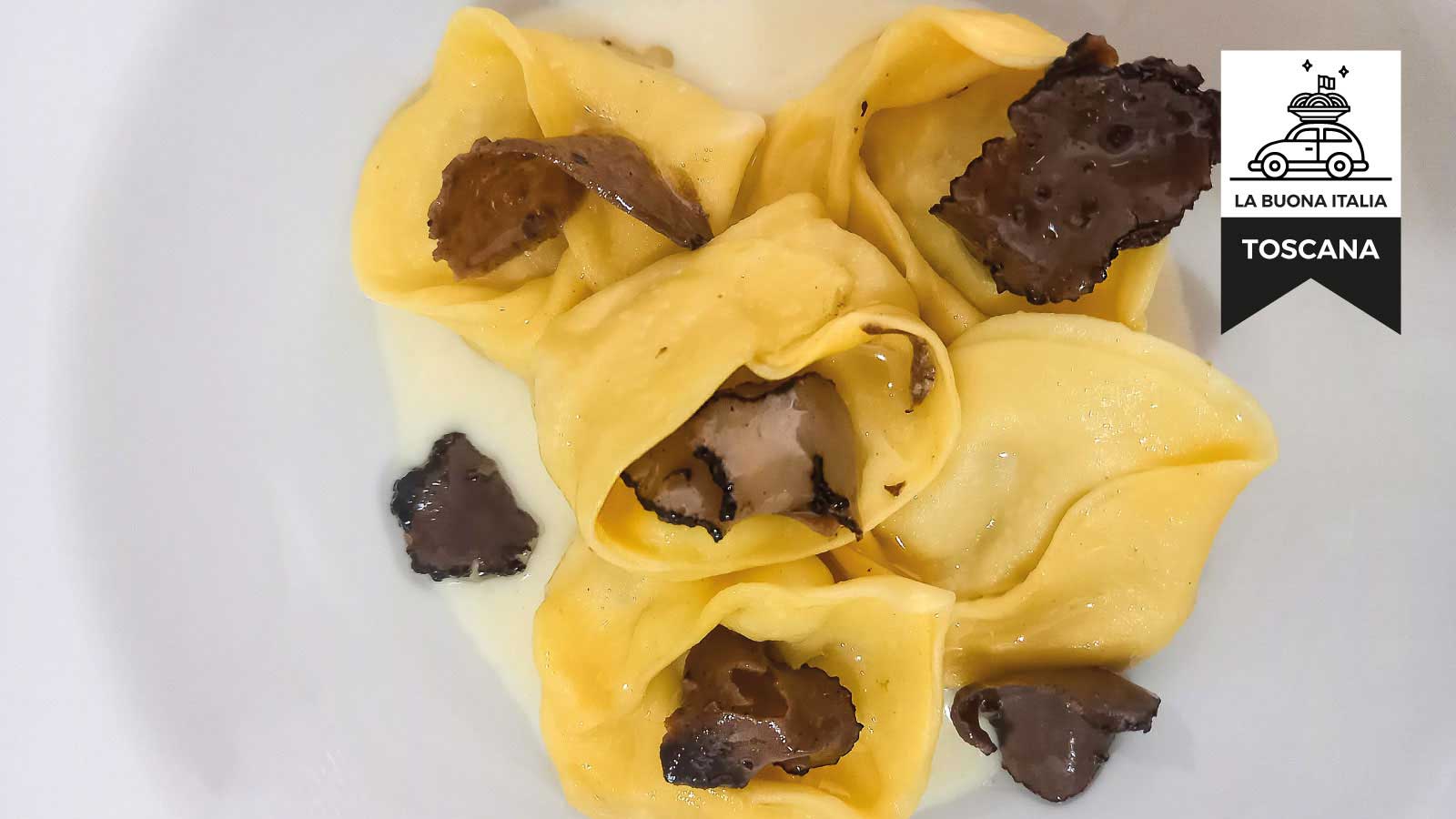 Toscana – Prato potato tortelli with truffles
This week our truffle trip takes us to Tuscany.
@daianacecconi (@profumodicannellablog), a contestant on the second edition of MasterChef Italia, a cooking enthusiast and lover of her region, prepared these wonderful Pratesi Potato Tortelli, embellished with T&C truffle products.
Daiana chose our cream of summer truffle for the filling and, for the topping and serving, Condiburro summer truffle and T&C summer truffle shavings.
We leave you with the recipe to try your hand at preparing this revisited typical regional dish… and see you on the next leg of our truffle trip "La Buona Italia".
Place the flours on the pastry board and mix with the eggs and a pinch of salt.
Knead until the dough is luscious and elastic.
Wrap in plastic wrap and let it rest in the refrigerator for about a half hour.
Wash the potatoes with their skins on and cook them in plenty of water.
When they are cooked, peel them and mash them, with a potato masher, in a bowl.
Add the pecorino cheese, summer truffle cream, mix and adjust the salt.
Take the dough from the refrigerator and roll it out into a fairly fine sheet, put mounds of filling and form tortellini, of your favorite shape.
In a nonstick saucepan, melt the knob of butter, add the flour, mix and afterwards add the warm milk.
Bring to a boil and cook for a few minutes, remove from the heat and add the grated Parmesan cheese, which will melt forming a cream that will be used to season the tortellini.
Cook the tortellini in salted water.
In a high-sided frying pan, melt the summer truffle seasoning and quickly sauté the tortellini in it, then arrange them on plates, top with the parmesan cream, summer truffle shavings and serve.
INGREDIENTS FOR 4 PEOPLE
100gr flour00
100gr remilled semolina
Two whole yellow-fleshed eggs
For the filling
2 medium-sized potatoes
80gr grated Tuscan pecorino cheese
3 tablespoons summer truffle cream T&C
For the topping
200ml whole milk
1 heaped tablespoon of rice flour
1 knob of butter
100gr grated parmesan cheese
T&C butter and summer truffle
T&C summer sliced truffle in oil