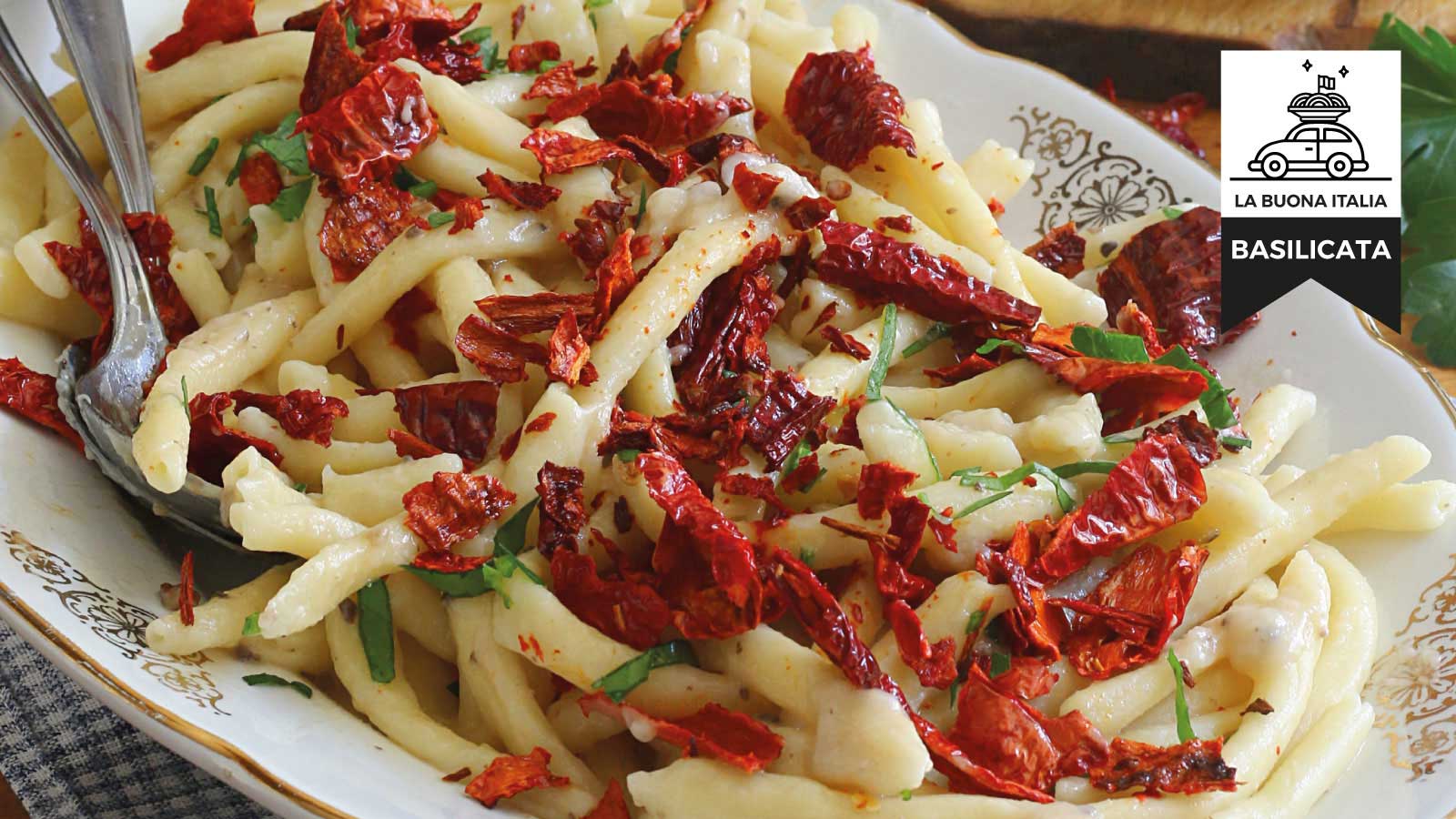 Basilicata – Fusilli al ferretto with truffle sauce and cruschi peppers
Today La Buona Italia takes us to Basilicata!
In this tasteful stop, the fresh pasta of Lucanian tradition meets the intensely fragrant T&C White Truffle Sauce and the crispy crunchy peppers, in an unforgettable combination of flavors.Fusilli al ferretto is a pasta format not only from Basilicata, but also from Calabria and Cilento: Raffaella (@profumodicannellablog) prepared it for us remembering her grandmother Lucrezia and her childhood and enriching it with the typical fragrance of our region.
We are happy to also be part of her tasty memories thanks to the realization of her recipe that also evokes our region.
To make the dough: gather the flour in a bowl and arrange it in a well, then add the water at a trickle and knead until you get a firm, dry dough ball. Let it rest for 30 minutes and then cut out small portions of the dough, then proceed to form fusilli using the special ferretto.
Clean the peppers: wipe them with a dry cloth and carve them lengthwise, then remove the seeds and stem. Fry the peppers well distended, one at a time, by dipping them for a few seconds in boiling oil. Drain them as you go on paper towels.
Cook the pasta in boiling salted water, drain when al dente and toss with the truffle sauce. Stir well.
INGREDIENTS FOR 4 PEOPLE
600 g ready-made fresh fusilli (or 400 g semolina flour and 200 ml water)
1 jar of white truffle sauce (https://www.tectartufi.it/en/prodotti-al-tartufo/white-truffle-sauce/bianco/)
8 dried Senise IGP peppers
Fresh parsley
Peanut seed oil for frying.