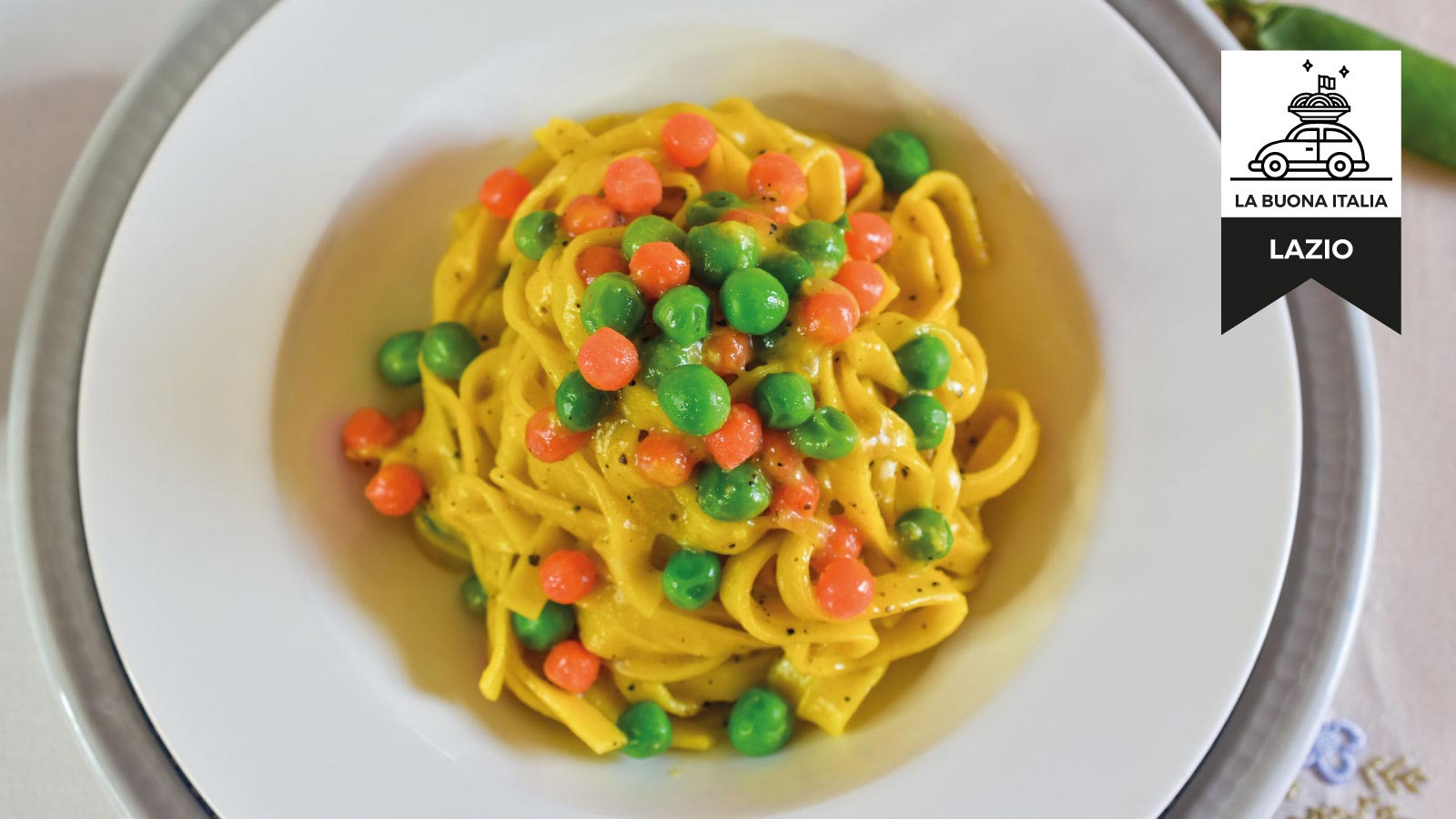 Lazio – Truffle Papalina Fettuccine
The story of this dish concerns a specific request from Cardinal Eugenio Pacelli, the future Pope Pius XII, at the time a customer of the long-closed restaurant del Colonnato on Via del Mascherino.
The proprietor, Cesaretto Simmi, was asked for a new dish, a new recipe, something different from those offered on the menu. From that idea the leap was short, fettuccine alla papalina, perhaps because' so auspicious to the cardinal who became pope, successfully won over patrons of Roman trattorias from Testaccio to Prati in the 1950s.
In contrast to many Roman recipes that are now codified and do not allow for imaginative variations, there are more than one variation of fettuccine alla Papalina, starting with raw or cooked ham, with or without garlic and/or onion. Numerous versions include the use of peas, some mushrooms.
Certainly at the base of the sauce are eggs and cheese, a clear reference to the very famous Carbonara.
This is my personal version, vegetarian, appetizing, rich and elegant like the notes of the truffle.
Finely chop spring onion and let wilt in a little oil and a knob of butter with the addition of a teaspoon of Tartumix until transparent, keep aside.
Blanch peas and small balls, obtained with a carrot digger, of carrots in salted water and cool quickly in water and ice, keep aside.
Prepare the sauce by combining the eggs, egg yolks, cream, summer truffle cream and Parmesan cheese, adjust the salt with truffle salt.
Cook the egg fettuccine well al dente, drain and toss together with the melted onion, peas and carrots well seasoned with each other.
Off the heat, add the egg and truffle sauce, stirring in a little fettuccine cooking water if necessary, until the sauce is smooth but creamy.
Serve in the fondness.
INGREDIENTS FOR 2 PEOPLE
200 g fettuccine
1 fresh spring onion
1 teaspoon of Tartumix
60 g fresh shelled peas
2 carrots
1 whole egg + 2 yolks
50 g Parmesan cheese
2 generous tablespoons of cream of summer truffle T&C
20 ml fresh cream – cream of milk
T&C summer truffle salt
1 knob of butter
EVO oil to taste