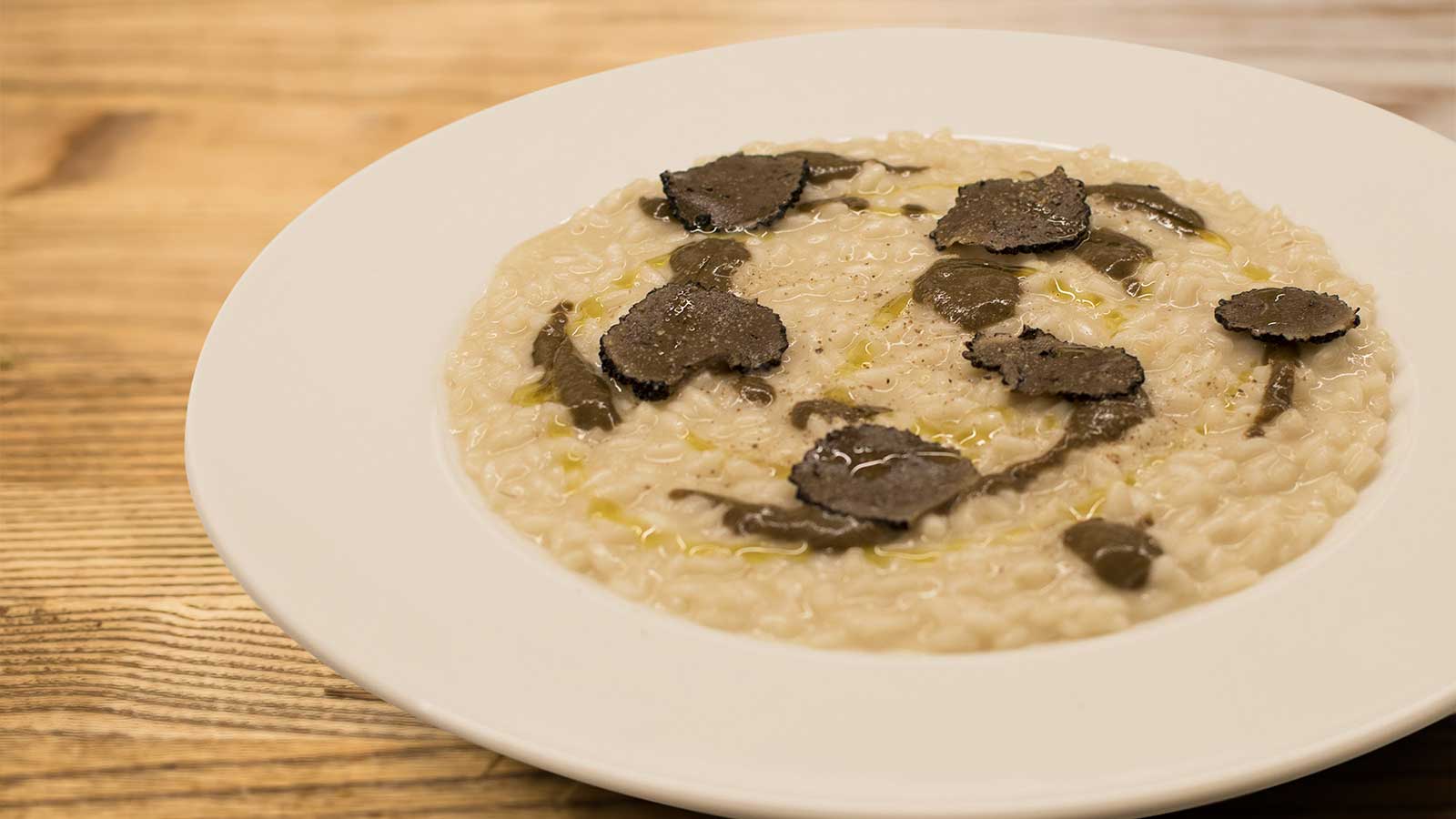 Risotto with Parmigiano Reggiano DOP 30 months with Truffle
We interviewed Luca Montersino chef, pastry chef, food influencer and food blogger to create an ideal connection between the protagonists of food. He amazed us: he told us his story and his vision giving us this exquisite recipe!
Finely chop the onion, put it in a bowl and add the butter and white wine; cover with cling film then pasteurize in microwave at maximum power for 5 minutes.
Store in the fridge. In a saucepan put the rice, the pasteurized onion and the edge of boiling meat. Cook the rice adding the broth a little at a time. At the end of cooking, off the heat, stir in the thirty months Parmigiano Reggiano and the butter, forming a nice cream. Serve with the truffle fermented black garlic cream.
To garnish: strips of black summer truffle to taste. For the cream: fry the crushed garlic in oil, then remove it and add the black garlic; allow it to flavor for a minute and then blend it in a blender together with the parsley, Parmesan, broth, truffle sauce and starch. Blend very well, homogenizing everything.
INGREDIENTS FOR 4 PEOPLE
FOR THE RISOTTO:
450 g carnaroli rice
1,500 g of meat broth
FOR THE PASTEURIZED ONION:
50 g white onion
20 g butter
150 g white wine
TO BATCH:
250 g Parmigiano Reggiano 30 months
80 g butter
Salt and Pepper To Taste.
FOR THE GARLIC CREAM
TRUFFLE BLACK:
40 g fermented black garlic
5 g garlic
10 g parsley
20 g extra virgin olive oil
100 g Parmigiano Reggiano 30 months
200 g Meat broth
80 g truffle sauce
5 g Corn cream
2 g truffle oil
50 g black truffle for garnish