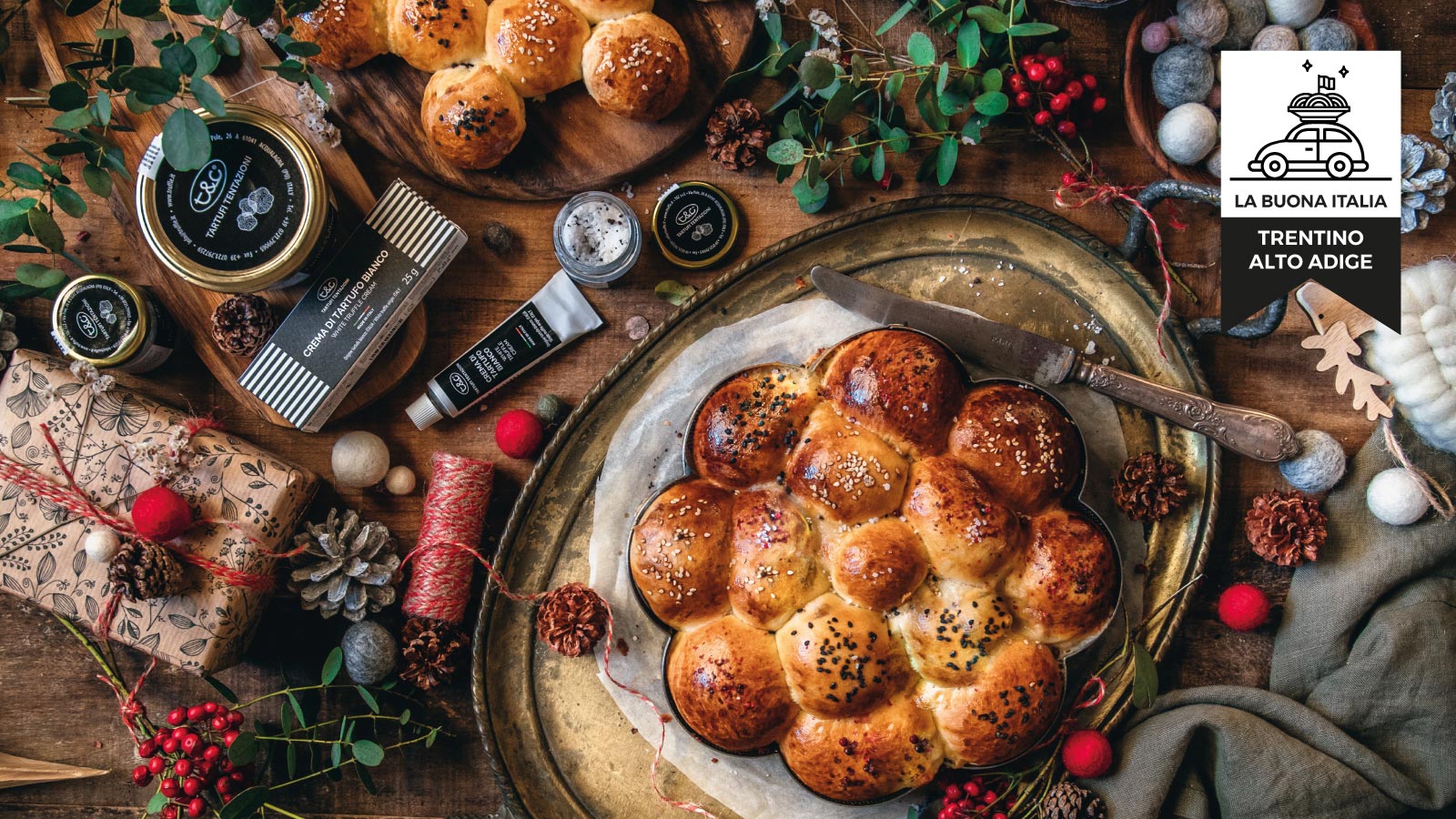 Trentino – Buchteln with truffle and stelvio cream
Christmas week is officially here!
And we have come to the end of this journey of taste that has accompanied us for a year throughout the peninsula: we will dedicate an ad hoc space to thank all the chefs, food bloggers, influencers and young promises of the restaurant world for bringing the flavor of the truffle in their region, reinterpreting centuries-old culinary stories.
We close this journey with Lucia Carniel (@lucia_carniel_lultimafetta) who accompanies us in the most Christmas region of Italy: Trentino Alto Adige! Lucia has made this enchanting Buchteln with truffle and stelvio cream that makes us think of the torpor of holidays, the fireplaces lit, the lights and the magic of the period that always makes us go back to being children.
Thank you Lucia for this wonderful shot, for this delicious recipe and for allowing us to close our trip with so much magic.
Sift the two flours, add the sugar and baking powder.
Mix with the flat beater and start adding the mixed milk and water (keep aside about a spoonful of water in which you will dissolve the salt).
Break the eggs with a fork and add the truffle cream. Add the mixture gradually to the dough.
Insert the hook and add the butter in small pieces, a little at a time. Work the dough on medium-high speed until smooth, it will take about 15 minutes.
Towards the end, add the salt dissolved in the water.
Leave the dough smooth and silky in the bowl of the planetary mixer covered with plastic wrap. Let rise until almost doubled in a warm place.
Deflate the dough and make many balls of about 35 g. Spread them with your fingertips and stuff them with a little grated Stelvio and a teaspoon of truffle sauce.
Close the balls well, roll them up and arrange them with the closure facing downwards inside a mold of about 28 cm greased with butter, spacing them apart.
Cover the balls with film lightly greased with oil or butter. Leave to double in volume, brush with yolk mixed with milk.
Bake in a preheated static oven at 180° for about 30 minutes. Remove from the oven and brush with the butter that you have previously melted and mixed with a spoonful of white truffle cream. Decorate as desired with seeds.
INGREDIENTS
For the dough
200 g weak 00 flour
200 g manitoba flour
5 g dry brewer's yeast
25 g sugar
80ml water
40ml milk
2 small eggs (about 90/100 g)
1 teaspoon T&C White truffle cream
80 g butter to t. environment
8 g truffle salt T&C
To stuff
100 g Stelvio cheese
100 g T&C white truffle sauce
To brush
1 egg yolk + 1 tablespoon of milk
To polish
50g butter
1 tablespoon T&C White Truffle Cream